Barrick Stees, Bassoon
About Barrick Stees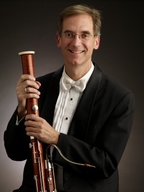 Barrick Stees is the Assistant Principal Bassoonist of the Cleveland Orchestra. He teaches at the Cleveland Institute of Music and the University of Akron.
Sought after world wide as a performer and teacher, he has concertized extensively in Europe, South America and Asia, including a solo tour of Hong Kong and China. His appearances at international music festivals include the Santo Domingo Festival in the Dominican Republic, the Festival Y Escuela de Santa Fe de Bogota, the Festival dei Due Mondi in Spoleto, Italy, and the 2000 International Double Reed Society Conference in Buenos Aires, Argentina.
He has given recitals throughout the United States. His solo appearances include performances with the Hartford Symphony, the South Bend Symphony, the Brevard Music Center Orchestra and the Cass City Bach Festival.
Awarded the 2001 Presidential Scholar Teacher Recognition Award from the United States Secretary of Education, he has taught at Michigan State University, the Interlochen Arts Camp, the Interlochen Arts Academy, and the Brevard Music Center. He was previously Principal Bassoonist with the Hartford Symphony and has played with the Pittsburgh Symphony and the Detroit Symphony.
Stees received a bachelor's degree and performer's certificate from the Eastman School of Music where he studied with K. David Van Hoesen.
He has commissioned and premiered many new works for the bassoon, including Windows, a concerto for bassoon and orchestra by Daniel McCarthy, premiered in 2005 at the Brevard Music Center.
His first compact disc recording, The Romantic Bassoon, with pianist Philip Hosford, was released in 1994. His second recording, Opera Fantasies and Paraphrases, a compact disc of music from the opera for Claves Records was released in 1999. His latest recording, Nostalgica, comprised of music he commissioned for bassoon and string quartet by composers Charles Ruggiero, Daniel McCarthy and Miguel del Aguila, represents the culmination of his efforts in commissioning new music for the bassoon. His website, www.steesbassoon.com, contains a wealth of information for bassoonists.
Barry lives in South Russell, OH with his wife, Melinda and two daughters, Grace and Maddy. He enjoys running, gardening and roasting coffee in his spare time.