CDs & DVDs
Ordering
To order any of the following products please send us an EMAIL and provide:
Your name
Mailing address
Telephone number and/or email address
Which items you wish to purchase and how many of each.
You will be contacted via email or phone for payment options. Shipments may take 1-2 weeks. Shipping on orders up to $25 = $4.00. Shipping on orders $26-$50 = $8.00. Shipping on orders $51.00 - $100 = $12.00. Orders over $100 and orders outside the US will cost more. Additional $1.00 for each additional CD. Personal or Cashier Checks may be made payable to Barrick Stees.
If you wish to send payment via PayPal, click here.
The Romantic Bassoon Mark Records CD MCD-1380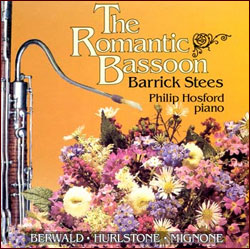 Barrick Stees, bassoon
Philip Hosford, piano
"This is Stees' best playing. . . he displays his solid technique, phrasing and dynamics beautifully" - The Double Reed
$15.00
Track Listings:
Bassoon Sonata in F Major

(1904)

William Hurlstone

(1876-1906) (Emerson Edition)

Vivace
Ballade - Moderato, ma sempre a piacere
Allegretto
Moderato - Animato - Vivace

16 Valsas Para Fagote Solo Fransisco Mignone

(1897 - 1986) (Funarte)

6a Valsa Brasileira
Misterio (Quanto amei-a! / How I loved Her)
Valsa de Outra Esquina (Waltz from Across the Street)
Valsa - Choro
Valsa em Si Bemol Menor (Dolorosa)
Valsa Improvisada
Apanhei-te Meu Fagotinho (Valsa parodia)
(Got you, my little Bassoon - waltz parody)
+1 3/4
Valsa Declamada
Pattapiada
"A Noel Devos" A Boa Pascoa Para Voce, Devos! (Valsa em fa menor)
(To Noel Devos, Happy Easter to You, Devos! Waltz in f# minor)
Valsa Ingenua (Naive Waltz)
"A Memoria de Mario de Andrade" A Escrava Que Nao Era Isaura (Valsa sem quadratura)
(To the Memory of Mario de Andrade. The Slave Who Was Not Isaura)
Macunaima (A valsa sem carater) (Waltz without Character)
Valsa Quase Modinheira (A implorante) (Waltz like a Modinha - The Imploring)
Aquela Modinha Que Villa Nao Escreveu (The Modinha Which Villa-Lobos Did Not Write)

Concert Piece for Bassoon and Piano, Opus 2

(1827)

Franz Adolf Berwald

(1797 - 1868) (Musica Rara - Piano Reduction, Kim Walker)

index 1 (Allegro)
index 2 (Andante)
index 3 (Variation I)
index 4 (Variation II)
index 5 (Adagio)
index 6 (Tempo I)
Opera Transcriptions and Paraphrases Claves CD 50-9815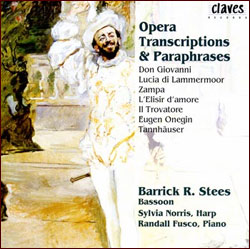 Barrick Stees, bassoon
Sylvia Norris, harp
Randall Fusco, piano
"With his beautiful 'bel canto' tone, and sure technique, he is a natural to 'sing' these great arias and operatic transcriptions for us." - The Double Reed
$15.00
Track Listings:
Zampa Fantasy (11'34)
L. J. Ferdinand Herold (1791-1833)
arr. Carl Jacobi (1791-1852)
"Una Furtiva Lagrima" from L'Elisir d'amore (4'16)
Gaetano Donizetti (1797-1848)
arr. Barrick R. Stees
"Il mio tesoro" from Don Giovanni (4'19)
Wolfgang Amadeus Mozart (1756-1791)
arr. Barrick R. Stees
Cavatina from La Gazza Ladra (5'40)
Gioacchino Rossini (1792-1868)
arr. Frederic Berr (1794-1838)
"Il balen del suo sorriso" and "Di quella pira" from Il Trovatore (6'10)
Giuseppe Verdi (1813-1901)
arr. Barrick R. Stees
Lenski's aria "Kuda, Kuda" from Eugene Onegin (6'36)
Peter Ilyich Tchaikovsky (1840-1893)
arr. Barrick R. Stees
"Ha! Wie will ich triumphieren!" from Die Entfuhrung aus dem Serail (3'24)
Wolfgang Amadeus Mozart (1756-1791)
arr. Barrick R. Stees
Variations on a Theme from Handel's Judas Maccabeus, WoO 45 (12'42)
Ludwig van Beethoven (1770-1827)
arr. Barrick R. Stees
"O du mein holder Abendstern" from Tannhauser (5'56)
Richard Wagner (1813-1883)
arr. Barrick R. Stees
Divertimento on Themes from Donizetti's Lucia di Lammermoor (11'08)
Antonio Torriani (1829-1911)
NostalgicaCentaur DC CRC 2564
Barrick Stees, bassoon
Randall Fusco, piano
The Arianna String Quartet:
John McGrosso, violin
Rebecca Rhee, violin
Mahoko Eguchi, viola
Kurt Baldwin, cello

"Stees. . . travels new musical paths with missionary zeal. His playing is focused and keenly shaded, flexible when the going gets hyperactive, and superbly integrated with his colleagues." - Gramophone
$15.00
Track Listings:
Blues, Time, Changes (1999) (15'08)
Charles Ruggiero (b. 1947)

Nostalgica, Op. 60

(1998)

Miguel del Aguila

(b. 1957)

I. Long Ago (3'23)
II. Blues (4'16)
III. Nostalgica (7'28)
IV. Happy End (4'12)
All the West Was Moving (1997) (10'02)
Daniel McCarthy (b. 1956)

Sunset Song, Op. 42

(1994)

Miguel del Aguila

(b. 1957)

I. With swing, as in Blues (2'11)
II. Allegro (9'30)
Barrick Stees also performs on the following CDs: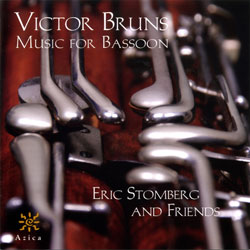 Bassoon music of Victor Bruns, including two sonatas and two bassoon quartets.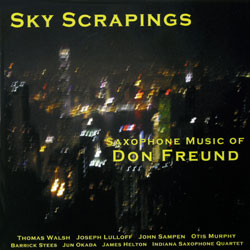 Includes "Louder Than Words" for Alto Saxophone, Bassoon and Piano.