Stees
Bassoon

Products

In this page you will find custom-designed reed making equipment that will help you craft your reeds to the highest standards. Each item's construction was supervised and designed by Barrick Stees himself.
Ordering
To order any of the following products please send us an EMAIL and provide:
Your name
Mailing address
Telephone number and/or email address
Which items you wish to purchase and how many of each.
You will be contacted via email for payment options. US shipments will be via Priority Mail unless you specify otherwise. Priority Mail shipping rates will apply plus, if PayPal is used, a small service charge. Orders over $100 and orders outside the US will cost more. Personal or Cashier Checks may be made payable to Barrick Stees.
If you wish to send payment via PayPal, click here.
Item 1: Reamer - $90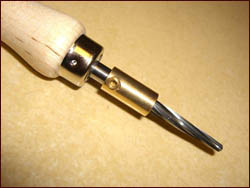 This newly designed reamer has an ultra-sharp five-flute spiral cut. Ream wet or dry. Since this reamer goes into the throat, use with a rat tail file is recommended.
An adjustable collar with set screw allows you to set the depth of reaming for consistent fit on the bocal. Comes with a wooden handle and an Allen wrench for the set screw.
Reamer designed by Ken Potsic.
Read a product review from the Music Matters - Bassoon blog.
Item 2: Mandrel Pins - $8.00 ea.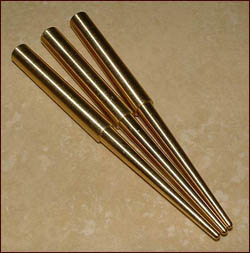 Custom made, stainless steel plated mandrel pins. Thanks to Ken Potsic for his design of these pins.
Collar on shank for uniform forming and uniform tube diameter
1/4" shank
Complex set of tapers conforms to inside taper of Barrick Stees's reeds from butt end to collar
There are three different tapers that are blended together that approximate the taper of the interior of the tube and throat of the reed more closely than any other mandrel pin available
The shank of each pin is specially machined for a better grip in the pin vise
Doubles as forming mandrel and drying rack pin
Blank stays on same pin from forming to drying.
Item 3: Mandrel Pins and Drying Rack - $25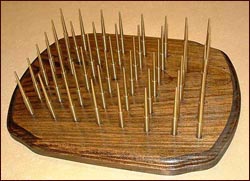 Add $25.00 to include a wood drying rack to your mandrel pin order.
All drying racks are custom made. Drying racks come with 12, 21, or 24 holes.
Item 4: Pin Vise - $17.00 ea.
Accepts 1/4 " diameter pins
Acts as a forming mandrel handle
Unscrew chuck to remove pin
Item 5: Long Rubber Bands -$2.00 for one (1) package of 12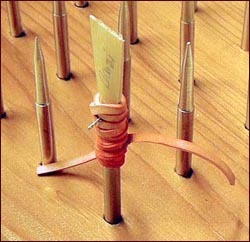 To learn more about forming your reed using rubber bands, read my article on Making Reeds.